Słów kilka o Skill Bookach. 
Książki są bound 

Nie możemy nimi handlować, nie możemy ich dawać na trade, możemy natomiast przekładać je z postaci na postać w obrębie danego konta. Zawsze jakaś pociecha :)

Książki można wkładać i wyjmować "z półki" tylko w mieście

Nie można jednocześnie mieć włożonych dwóch książek z tym samym skillem 

Książka ma następujące cechy: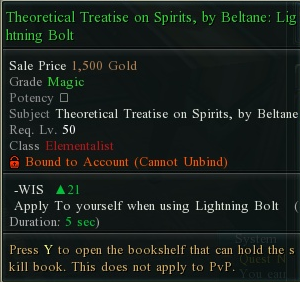 1. Tytuł, autor oraz nazwa skilla na którego działa dany Book Skill
efekt setu jest aktywny kiedy uzbieramy 6 książek pod tym samym tytułem napisanych przez tego samego autora

2. Grade
książki mogą mieć różny grade: Common, Magic, Rare, Perfect, Master, Epic
grade książki ma wpływ na potency (moc/siłę) 

3. Potency (moc/siła patrz tutaj) 
niestety w grze jest chyba mały bug z wyświetlaniem ponieważ przy napisie Potency widnieje kwadracik. Zamiast kwadracików powinny być gwiazdki. Całe szczęście liczba wyświetlanych kwadracików pokrywa się z ilością gwiazdek więc nie jest to jakimś wielkim problemem.

4. Class
czyli nazwa klasy która może używać danej książki
5. Wymagany lvl
lvl od którego można jej używać - książek można używać od levela 50

6. Efekt danej książki 
czyli bonus jaki będzie aktywny podczas użycia skilla, który mamy wzmocniony za pomocą książki oraz czas jego działania (efekt danego Book Skilla jest widoczny w momencie ataku, błękitne liczby przy zadawaniu dmg to właśnie wzmocnione oddziaływanie naszych książek)
...opracowanie by Mithy...
Ad blocker interference detected!
Wikia is a free-to-use site that makes money from advertising. We have a modified experience for viewers using ad blockers

Wikia is not accessible if you've made further modifications. Remove the custom ad blocker rule(s) and the page will load as expected.