Czwarty kontynent Okapia (portal Vimpeli Castle). Dostępna od levelu 50, zabiera 7 punktów staminy. Ta instancja ma tylko jedną skrzynkę. Przechodzimy ją bijąc wszystkie mobki. Na końcu jest do zabicia mini boss i skrzynka z dropem.
Na mapie terytorium nazwa brzmi Realm of the Ancient natomiast mapy zwą się Trove of the Ancient.
Realm of the Ancient (Trove of the Ancient)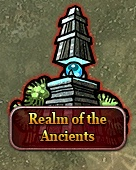 Map Fragment Trove of the Ancient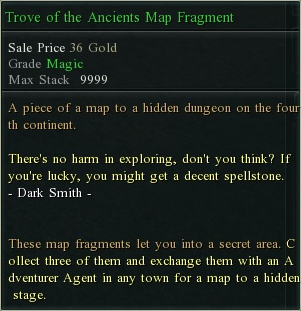 Mapa Trove of the Ancients:
aby wymienić potrzeba 3 x Trove of the Ancient Map Fragment

7,000 golda za wymianę jednej mapy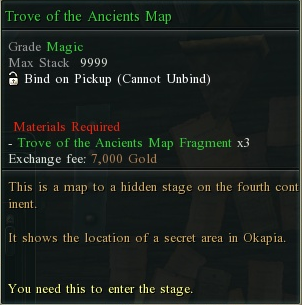 Drop:
gold z mobów, z końcowego minibossa i skrzynki

z końcowego minibossa 2 lub 3 Hell Piece God's Calling

ze skrzynki: Silver Chunk, Gold Chunk, Wild Ginseng, Diamond Chunk, Bellflower Root, Ginseng (ilość losowa), czasem Spellpage

ilość golda zależna jest od rodzaju mobów na instancji, im więcej silniejszych mobków tym większa ilość golda, niestety rozkład sił na każdej kolejnej instancji jest losowy, nie są to jednak duże wahania w ilości złota jaką zbierzemy
...opracowanie by Mithy...