Magic Seal Scroll
Księga (zwój?) do odbindowywania itemów.
Przedmiot ten służy do usuwania kłudki z itemu. Przedmioty z kłudkami są przypisane do naszej postaci i nie mogą być usunięte z jej plecaka. W związku z tym nie można ich wysłać mailem, przenieść do magazynu (a przez to — na inną postać), ani wystawić na aukcji w Trade Office (AH).
WAŻNE: Magic Seal Scroll znajduje się w zakładce "Cash" plecaka naszej postaci!
Proces jest analogiczny jak przy Magic Primer czy Chaos Stone:
1. Klikamy dwukrotnie na naszym "zwoju" (Magic Seal Scroll). Otworzy się okienko, jak poniżej: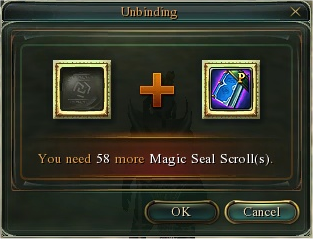 W tym przypadku, mamy tylko jeden zwój, a do odbindowania itemu potrzebnych jest aż 59 - brakuje więc 58.
2. Jeśli mielibyśmy odpowiednią ilość zwojów, to po naciśnięciu "OK" i odczekaniu paska postępu odblokujemy (odbindujemy) item. Mała kłudeczka z czerwonej zmieni się na białą, a na karcie cech przedmiotu pojawi się biały napis "Unbound Count: X" - gdzie X wskazywał będzie, ile razy dany item był już odbindowywany.
| | — przedmiot zablokowany - nie można go wyjąć z okna postaci; |
| --- | --- |
| | — przedmiot odblokowany - można go przełożyć lub sprzedać w Trade Office (AH) |
przygotowane przez Vinya
Ad blocker interference detected!
Wikia is a free-to-use site that makes money from advertising. We have a modified experience for viewers using ad blockers

Wikia is not accessible if you've made further modifications. Remove the custom ad blocker rule(s) and the page will load as expected.