Magic Primer

item służący do zdejmowania blokady przy ulepszaniu broni/zbroi.
Mechanizm działania jest podobny do Chaos Stone. Czasem, blokada taka może się pojawić kiedy "wbijamy" item na plusy, kiedy nie uda się podniesienie poziomu – powyżej "bezpiecznego" (dla broni jest to +9, dla zbroi +4, a dla biżuterii +3). Wtedy dany item, zamiast kulturalnie rozpaść się w niebyt, blokuje się (pojawia się na nim kłódeczka) i nie można go już dalej "wbijać". Zdarza się szczególnie, jeśli nie uda nam się ulepszyć danej rzeczy kilka razy z rzędu.
Należy wtedy użyć Magic Primera.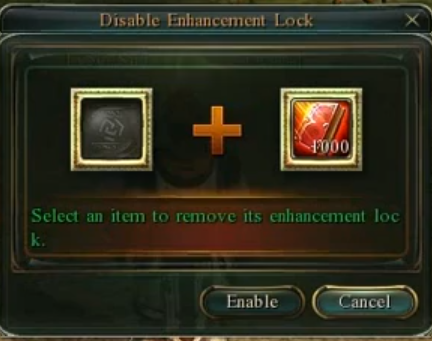 Klikamy dwukrotnie lewym (albo raz prawym) na nasz Magic Primer, po czym otwiera się powyższe okienko. Po lewej stronie mamy puste miejsce, w które wkladamy nasz nieszczęsny item z kłódką i wciskamy Enable.
Kłódka magicznie znika, wraz z pewną ilością Magic Primerów z paczki, z którą zaczynaliśmy proces. Ilość zużytych książeczek jest proporcjonalna do poziomu na który uprzednio wbity był item.
przygotowane przez Vinya
Ad blocker interference detected!
Wikia is a free-to-use site that makes money from advertising. We have a modified experience for viewers using ad blockers

Wikia is not accessible if you've made further modifications. Remove the custom ad blocker rule(s) and the page will load as expected.