Trzeci kontynent Runnersville. Dostępna od  levelu 42, zabiera 3 punkty staminy. Na tej instancji pokazują się nam 3 skrzynki. Dwie skrzynki pokażą się nam kiedy obronimy dwa Minotaury. Jeżeli dopuścimy do ich zabicia nie dostaniemy skrzynek. Na zakończenie instancji mamy trzecią skrzynkę.

Barbegazi Hoard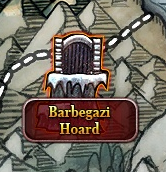 Barbegazi Hoard Map Fragment
Mapa Barbegazi Hoard:
aby wymienić potrzeba 3 x Barbegazi Hoard Map Fragment

7,500 golda za wymianę jednej mapy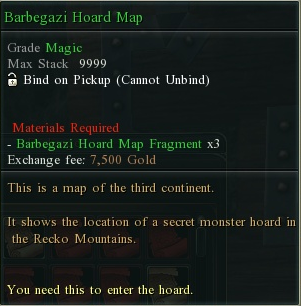 Drop:
gold z mobów i ze skrzynek

armor i broń Soulless ze statami 1-1 (ze skrzynek) do rozbicia u kowala w zakładce Dismantle

ilość golda zależna jest od rodzaju mobów na instancji, im więcej silniejszych mobków tym większa ilość golda, niestety rozkład sił na każdej kolejnej instancji jest losowy, nie są to jednak duże wahania w ilości złota jaką zbierzemy
...opracowanie by Mithy...
Ad blocker interference detected!
Wikia is a free-to-use site that makes money from advertising. We have a modified experience for viewers using ad blockers

Wikia is not accessible if you've made further modifications. Remove the custom ad blocker rule(s) and the page will load as expected.