Artisan Crystal – kryształ rzemieślniczy.
Powstaje z pustego kryształu rzemieślniczego (Vacant Artisan Crystal).
Dokonujemy tego przy pomocy narzędzi rzemieślniczych (domyślnie pod klawiszem "J"). Przykładowo: krosno u szwaczki – Tailorki, wybieramy z lewej strony kategorię "Universal Crafting".

W środkowej części, pojawia się lista przedmiotów, które możemy wytworzyć z itemów aktualnie posiadanych przez nas w plecaku. Podświetlone pole wskazuje, że zostaną wytworzone 3 sztuki Artisan Crystal. Po prawej stronie natomiast widnieją surowce potrzebne do całego procesu. Tutaj będzie to: 3x Vacant Artisan Crystal oraz 10x Inferior Recovery Herb (C).
Za drobna opłatą, możemy wymienić nasz Artisan Crystal (po kilka sztuk) na dowolny surowiec (skrzyneczkę). Do operacji potrzebne będzie 3x Artisan Crystal oraz 500 golda.
Taką skrzyneczkę klikamy i wypada z niej losowo: albo Crude Recovery Herb, albo Crude Stimulant Herb (w ilości po kilkadziesiąt sztuk).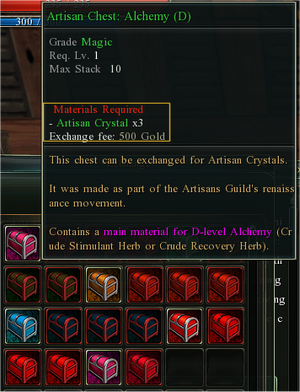 przygotowane przez Vinya
Ad blocker interference detected!
Wikia is a free-to-use site that makes money from advertising. We have a modified experience for viewers using ad blockers

Wikia is not accessible if you've made further modifications. Remove the custom ad blocker rule(s) and the page will load as expected.